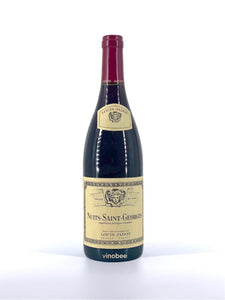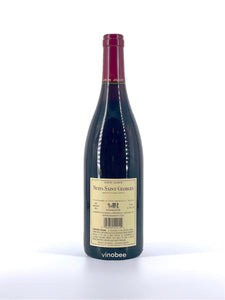 Louis Jadot Nuits Saint Georges Pinot Noir 2017 750ml
SKU: 388443-1
Louis Jadot Nuits Saint Georges Pinot Noir 2017 750ml
Winemaker Notes
A powerful, tannic and full-bodied wine of intense color, Nuits-Saint-Georges offers robust fruit flavors and nuances of oak in the bouquet.
This wine pairs well with game, beef and pork, and medium-aged cheeses.
Louis Jadot
Louis Jadot is one of Burgundy's most important wine producers and négociants, both qualitatively and quantitatively, with a portfolio that covers everything from inexpensive Bourgogne and Beaujolais wines to several grand cru wines, from the Côte de Beaune to Chablis. Unsurprisingly, Pinot Noir and Chardonnay feature heavily in the portfolio. 
The house was founded in Beaune in 1859 by Louis Jadot, although the first vineyard – Clos de Ursules – was purchased in the 1820s. The headquarters remains in Beaune, although vineyard holdings have increased exponentially.
Louis Jadot owns land in some of Burgundy's most famous vineyards, including Le Musigny, Échezeaux, Chapelle-Chambertin and in the famously fragmented Clos de Vougeot vineyard. Louis Jadot wines are also made in Chambertin, Montrachet, Corton and Romanée-Saint-Vivant.
As well as the sizeable portfolio of wines made under the Louis Jadot label itself, the house also makes wines for Domaine du Duc de Magenta, and for Domaine Gagey. Andre Gagey took over as general manager for Louis Jadot in 1968 and, along with winemaker Jacques Lardière, was often held responsible for building Jadot's high reputation in the 70s and 80s.
The firm was acquired in 1985 by the owners of US wine importer Kobrand, which still owns the company and imports Jadot's wines into the US.
Gagey, whose son Pierre-Henry Gagey took over as president in 1991, died in 1999 and Lardière retired in 2012. Frédéric Barnier, who joined the company in 2010, has since taken over as head winemaker. Thibault Gagey has since joined his father Pierre-Henry at the helm of the firm.
Jadot is also strongly associated with its in-house cooperage and barrel brand, Cadus, which was established in 1996 in the village Ladoix-Serrigny (just outside Beaune) in cooperation with barrel firm Tonnellerie Vicard. In 2013, Vicard sold its stake in the operation to independent French stave mill Canadell.