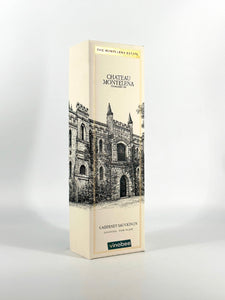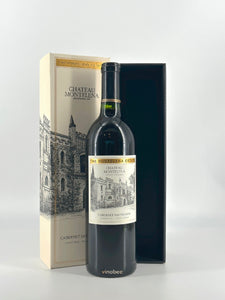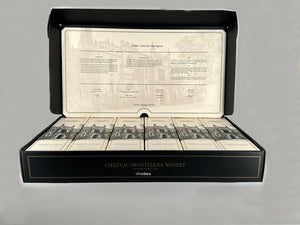 Chateau Montelena The Montelena Estate Cabernet Sauvignon 2016 750ML
SKU: 397416-1
Chateau Montelena The Montelena Estate Cabernet Sauvignon 2016 750ML
Cabernet Sauvignon from Napa Valley, California
Notes from the Winemaker
Incredibly floral and opulent, the red berry character of this vintage, mostly Bing cherry and raspberry at this stage, is buttressed by rich notes of cocoa, hazelnut, and Earl Grey. Black pepper and cedar complement this freshness exquisitely. Dense but light on its feet, the contrast of velvety tannins and bright acid bookend a youthful and vibrant palate, chock full of blackberry sorbet, plum sauce, and strawberry jam. Fresh fig and marzipan lend richness and texture while stitching these disparate forces into a cohesive yet lively experience. Baking spices abound on the finish along with coffee bean, star anise, and an almost caramel- like sweetness that dovetails beautifully with fresh blueberry and cinnamon.
Blend: 99% Cabernet Sauvignon, 1% Cabernet Franc
Reviews and Accolades
92 Points/Jeb Dunnuck
The largest production cuvée is the 2016 Cabernet Sauvignon Napa Valley, which comes mostly from Calistoga (there's a small amount of Merlot and Cabernet Franc from Oak Knoll) and spends 16 months in roughly 20% new French oak. Its ruby/purple color is followed by a vibrant, juicy wine that has plenty of black cherry, blackberry, spring flowers, and graphite. It's medium-bodied, elegant and seamless, with terrific purity and a balanced, juicy style. It's beautiful, classic Napa Valley Cabernet to drink over the coming 10-15 years.

Rating: 94+ points
92 Points/James Suckling
This will be released next year. I am loving the intense currants, mint, eucalyptus, and blackberries in the nose. Reminds me of a Lynch Bages or Mouton. Full bodied and chewy, with lovely fruit and round velvety tannins. The finish is packed with some serious fruit, but this could still use some time. Give this until at least 2015.
92 Points/Wine Enthusiast
Not a wine for drinking now or anytime soon. It's so hard in tannins, it basically locks down the palate, and the astringency seems to accentuate the acidity and dryness. However, there is a deep core of blackberry essence and, after all, this is Montelena.
**The gift box and Collector's Case do not come with individual bottles, please contact us if you have special needs for those packaging.**