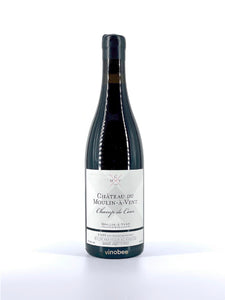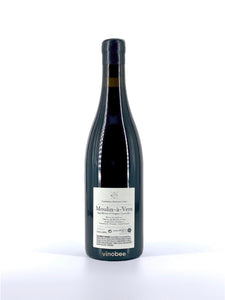 Château du Moulin-à-Vent Champ de Cour Moulin-à-Vent 2017 750ML
SKU: 399553-1
Château du Moulin-à-Vent Champ de Cour Moulin-à-Vent  2017 750ML
Gamay from Beaujolais, Burgundy, France
Notes from the Winemaker
The deep red color of the wine offers the first hint of its massive concentration. The nose is an explosion of red fruit, with roasted and spicy (pepper and saffron) notes. A full-bodied wine of considerable elegance, lively tannins and superb length, with a mineral finish.
Reviews and Accolades
93 Points/Wine & Spirits
This grows at an eight-acre parcel at the base of the hill in Thorins, where the soil is deeper and holds more water than in the vineyards on the slope. While hail severely cut back the 2017 crop, the fruit that remained created a formidable wine. It cascades with fruit up front, before the tannins tighten around all that floral intensity. Then, with air, it opens further, yielding scents of figs, plums and strawberries, still tight, but the racy fruit flavors last. Decant the bottle if you open it now, to serve with roast squab and wild mushrooms.
93 Points/Wine Enthusiast
A small harvest because of hail has produced this richly concentrated wine. Dense tannins and impressive black fruits are layered with acidity and a tensely structured character. The wine should be aged further to reveal its full panoply of flavors. Drink from 2022. ROGER VOSS
91 Points/Robert Parker's Wine Advocate
There are some 2,000 bottles of the 2017 Moulin-à-Vent Champ de Cour, one of the lieux-dits that was least impacted by the year's hail storms. Revealing aromas of cherries, dark berry fruit, candied peel and vanilla pod, it's full-bodied, layered and chewy, with firm tannins and an oak-inflected finish. There's clearly serious raw material here and thoughtful vilification, too, but I can't help feeling that the wine's fruit is somewhat surpassed on the palate by the supplemental oak phenolics. In short, the question is whether this Moulin-à-Vent will ever become truly charming? My score gives it the benefit of the doubt, but the cuvée's track record suggests that's optimistic.