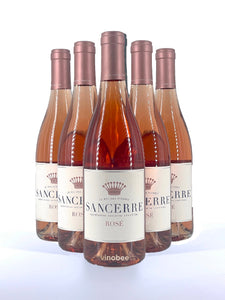 6 Bottles Le Roi Des Pierres Sancerre Rose 2019 750ML
SKU: 403153-6
6 Botttles of Le Roi Des Pierres Sancerre Rose 2019 750ML
Rosé from Sancerre, Loire, France
Notes from the Winemaker
Showcasing a lovely salmon color, this rosé is round and voluptuous presenting concentrated notes of red berries, yellow peach and plum on the nose. The palate offers an exquisite balance of red fruits and a very elegant thread of minerality on the finish with a touch of smoke, making this wine a fresh and versatile match for an array of seasonal selections.
Reviews and Accolades
90 Points/Wine & Spirit
Aromatically dense with sous-bois herbal notes and bright cherry fruit, this wine's saline backbone adds structure to the texture. Pour it alongside seared arctic char and snow peas.