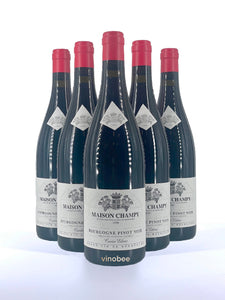 6 Bottles Maison Champy Cuvée Edmé Bourgogne Pinot Noir 2017 750ML
SKU: 392564-6
6 Bottles of Maison Champy Cuvée Edmé Bourgogne Pinot Noir 2017 750ML
Pinot Noir from France
Notes from the Winemaker
Dark ruby color with purple highlights. The nose is very open, with notes of small black fruit and vanilla on a finely woody background. Fresh on the palate, supple and round. A lively and structured wine, with tannins that are present but coated.
Reviews and Accolades
2018 90 Points/James Suckling
Sour cherries and redcurrants with floral undertones. It's medium-bodied with grippy tannins. Crisp and fresh with a juicy texture on the palate. Clean finish. Drink now.