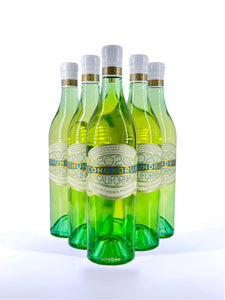 6 Bottles Conundrum California White Blend 2020 750ML
SKU: 292520-6
Conundrum California White Blend 2020 750ML
White Blend from California
Winemaker Notes
A light gold color with warm, honey undertones, this wine opens with evocative floral scents of delicate wildflowers and honeysuckle, layered with apricot and Bartlett pear. The palate offers luxurious fruit balanced by bright, mouth-watering acidity, a nuanced dance as one of these elements continually overtakes the other. Flavors of apricot and pear deepen the impression from the nose, along with exotic notes of pineapple and mandarin orange. A distinct texture lightly coats the mouth, as this wine remains both round and crisp all the way through to the fruity yet dry finish.
Blending wines was almost unthinkable when Conundrum White was born in 1989, launching a trend that continues to this day. Grapes for this blend come from sought-after California AVAs from Napa Valley to Santa Barbara County. While the exact blend is under wraps, every vintage includes Chardonnay, Sauvignon Blanc, Semillon, Muscat Canelli, and Viognier. Conundrum White is amazingly versatile, with intriguing tropical notes, natural acidity and a refreshing dry finish. Best served chilled.
Conundrum
It all began at the dinner table. Charlie Wagner Sr. – who co-founded Caymus Vineyards in 1972 with wife Lorna and son Chuck – would mix wines to find the perfect glass to pair with his meal. No one blended wines back then, so his experiment was pretty radical. Fast forward to 1989, when Conundrum White was born, quickly taking off with its mysterious, tropical notes and amazing versatility.
Today it's Charlie Sr.'s grandson and namesake, Charlie Wagner, who keeps Conundrum as inventive as ever. He launched Conundrum Red, a wine that is both lighthearted and serious. Charlie loves how there are no single-varietal rules when it comes to making these wines, and each has a unique style. They also showcase some of the best wine regions California has to offer, from Napa Valley to Santa Barbara County and many places in between.