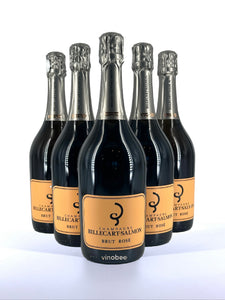 6 Bottles Billecart-Salmon Brut Rose 750ML N.V.
SKU: BLT13010NV-6
6 Bottles Billecart-Salmon Brut Rose 750ML N.V.
Non-Vintage Sparkling Wine
from Champagne, France
Notes from the Winemaker
The Brut Rosé is a fresh and elegant Rosé Champagne, a blend of Chardonnay, Pinot Meunier, and Pinot Noir vinified as red wine. Radiant color with graceful effervescence, a persistent mousse, and fine bubbles rising slowly in the glass. Subtle and fine aromas leading to an expressive red berry flavor with citrus zest. Creamy and smooth on the palate, evolving to strawberries notes and a raspberry finish. Light, balanced, and precise. The best pairing for any happy occasion! Pairs greatly with fine charcuterie, sushi, grilled salmon, or a langoustine carpaccio. It will also enhance lightly sweetened red berry desserts with an acidic crunch.
Reviews and Accolades
94 Points/Jeb Dunnuck
The NV Champagne Brut Rose is an attractive pale salmon hue, with a fresh perfume of wild strawberry, ripe peach, white and red flowers, a hint of tropical fruit, and grapefruit. The palate is rounded, with fruit up front and through the mid-palate, and it has a silky and fresh lift. There is a wonderful ease and drinkability to this wine, which delivers balance and finesse. Best after 2022.

93 Points/James Suckling
Attractive salmon color with aromas of dried strawberries and lemons, as well as hints of flowers. Full-bodied with tight tension from the fine phenolics that run through the palate. Hints of white pepper, peaches and sliced green strawberries with some candied lemons, too. Always an excellent bottle. 40% chardonnay, 30% pinot noir and 30% pinot meunier. Drink now.

92 Points/Wine Enthusiast
A dry style of brut, emphasizing great fruitiness, and with a touch of bottle age, this Champagne is ready to drink. Citrus, red fruits and tight minerality from the 40% Chardonnay in the blend, offer a wine under tension and worth aging another year in bottle. Drink now or from 2023.

92 Points/Wine Spectator
This mouthwatering rosé Champagne shows lacy texture and precise balance, with the well-honed acidity deftly knit to the subtle, chalky minerality and delicate range of nectarine, white cherry, slivered almond and pickled ginger notes. Chardonnay, Pinot Noir and Pinot Meunier. Drink now.