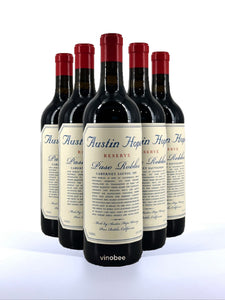 6 Bottles Austin Hope Paso Robles RESERVE Cabernet Sauvignon 2020 750ML
SKU: 460117-6
6 Bottles of Austin Hope Paso Robels RESERVE Cabernet Sauvignon 2020 750ML
Cabernet Sauvignon from Paso Robles, Central Coast, California
Austin Hope wines are the standard bearer of luxury Cabernet Sauvignon from Paso Robles.
Austin Hope saw the future of Paso Robles when he created his namesake Cabernet Sauvignon starting in 2017. This wine was the culmination of years of exploration, and it immediately made its mark by becoming one of the region's most decorated wines. Today, Austin Hope Cabernet Sauvignon is synonymous with our personal quest to elevate Paso Robles on the world stage.
This wine comes from a special barrel selection that is returned to 100% new French oak barrels for extended aging, creating a wine of immense stature and dimension.