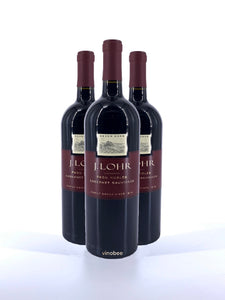 3 Bottles J. Lohr Cabernet Sauvignon Seven Oaks 2018 750ML
SKU: 137761-3
3 Bottles of J. Lohr Cabernet Sauvignon Seven Oaks 2018 750ML
Cabernet Sauvignon from Paso Robles, Central Coast, California
Notes from the Winemaker
The 2018 J. Lohr Estates Seven Oaks Cabernet Sauvignon is dark and dense in color, showing a bright hue at release. Ripe fruit aromas of black cherry and currant are accented by notes of toasted pastry and dark roast coffee from the authentic barrel bouquet. Persistent high-toned red fruit strikes the palate, followed by bright acidity and a structure that is both dense and soft at once.- Steve Peck, director of winemaking
Seven Oaks' offers velvety richness and supple tannins. Dense and soft, this wine boasts ripe flavors of black currant and cherry, enhanced by a bouquet of vanilla and spice from one year of barrel aging, and is an excellent companion to grilled beef, lasagna, or dark chocolate.
Reviews and Accolades
91 Points/Wine Enthusiast
For an affordable wine that's available almost everywhere in the country, this bottling is hard to beat. Fresh aromas of black currant, elderberry, lilac, pepper and charcoal lead into a rich palate of cassis, oak and charred beef, all lifted by herbs and peppercorns.