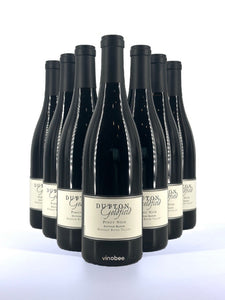 12 Bottles Dutton-Goldfield Dutton Ranch Russian River Valley Pinot Noir 2021 750ML
SKU: 455747-12
12 Bottles of Dutton-Goldfield Dutton Ranch Russian River Valley Pinot Noir 2021 750ML
Pinot Noir from Russian River, Sonoma County, California
Notes from the Winemaker
The extended 2018 season provided good maturity, sweet tannins, great depth of fruit, and nicely balanced wines, everything Dutton-Goldfield wants in their quintessential Russian River Valley Pinot expression. The nose leads with succulent mixed berry pie laced with baking spices. The blueberry, raspberry, and boysenberry are interlaced with pretty lilac and violet notes, along with a little redwood duff. There's a plush feeling to the wine, even from the aromas, which is confirmed in the mouth. It has that wonderful quality of richness without heaviness, with the sweet berry pie flavors rolling out on a layer of silk.
Savory notes of rhubarb, beet, and thyme back up the fruit, making this easy-pairing wine great with everything from warm chicken salad and silky grilled salmon to roasted duck and braised rabbit.
Reviews and Accolades
94 Points/Wine Enthusiast
From multiple certified-sustainable sites, including Campbell, Morelli Lane and Hallberg, this well-made wine is solid in crisp red-currant fruit and a dusting of dried herb. Rounded and balanced in richness, it offers a persistence of freshness and earthiness that compel.