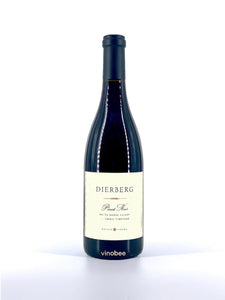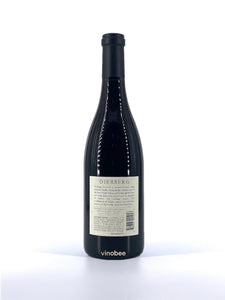 Dierberg Santa Maria Pinot Noir 2016 750ML
SKU: 381406-1
Dierberg Santa Maria Pinot Noir 2016
Vintage
As with recent vintages prior, another dry winter and warm spring led to an early start to the growing season. Spring and early summer remained warm, but overall the season was even and moderate in temperature throughout. As ripening started, even moderate days persisted into early September, and by the time all the Pinot and Chardonnay were harvested we managed to avoid any serious heat spells. This resulted in well developed, fresh, and pure examples of our vineyard.

Notes from the Winemaker
2016 was a straightforward vintage with moderate yields and a good pace to ripening. Unlike 2015, the wines were not as obviously dense and masculine, and therefore we leaned a bit more on stem inclusion to ensure we built a structure that was supple and extended with firm tannins. All in all, we had about 25% whole cluster in the final blend. The wines were aged in about 35% new oak to add a bit of mid-palate texture before being bottled the following December.

The mouth feel suggests great complexity, tension, length, and has that initial breadth from Dierberg Vineyard. These are great qualities of great wines, but they confess that the strength of this vintage is still veiled aromatically. They entrust themselves to the freshness of this mouth feel and the history of the vineyard to know that the aromatics will continue to unveil a great elaborate mystery of flavors based on Santa Maria's earthy nature and dark cherry qualities. Indeed even as the bottles have aged they see aromatic complexity emerge. The lover of both structured, masculine Pinot Noir and balanced, incredibly intense but fresh Pinot Noirs should find solace in this wine.
Tasting Notes
2016 feels like another step forward for this young vineyard. Showing the purity of 2014 but with more depth and mystery like 2015, this vintage makes its mark with a bit more fruit and less spice than we typically see with Drum Canyon. To articulate the nose is to do you a disservice; part of the pleasure of this wine is the time spent lingering with the aromatics, enjoying its various complexity. The mouthfeel and finish are pure, clean, well-structured and long. It's a compelling wine that is easy to go back to, but has much more to reveal with time.
Reviews and Ratings
93 Points/Robert Parker's Wine Advocate
The 2016 Pinot Noir Dierberg Vineyard aged 14 months in 35% new French oak. It's medium ruby with wonderful, layered perfume: dried rose petals, crushed herbs, woodsmoke, cranberry sauce, warm earth, red cherry preserves and hints of raspberries and orange peel. Light to medium-bodied, it offers delicate, layered intensity, a sturdy frame of grainy tannins and seamlessly woven acidity, finishing very long. Lovely! 1,700 cases produced.
93 Points/Jeb Dunnuck
Moving to the reds, the 2016 Pinot Noir Dierberg Vineyard comes from the estate vineyard in the Santa Maria Valley and was 75% destemmed and aged 10 months in 25% new French oak. Ruby/purple-hued, with notes of raspberries, Asian spice, forest floor, and crushed flowers, it's medium-bodied and has a rounded, elegant texture, beautiful purity, and a great finish. It's a clean, classy, impeccably put together Pinot Noir to drink over the coming 7-8 years.
92 Points/Wine Enthusiast
Earthy aromas of tarragon meet with black raspberry and cherry on the complex and deep nose of this bottling by Tyler Thomas. There's a dry grip to the palate, where red plum mix with dried mint, wild sage and intriguing lemon verbena flavors.