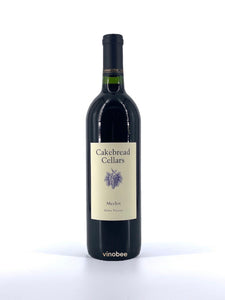 Cakebread Merlot Napa Valley 2017 750ML
SKU: 411756-1
Cakebread Merlot Napa Valley 2017 750ML
Merlot from Napa Valley, California
Notes from the Winemaker
This Merlot comes entirely from our estate vineyards throughout Napa Valley, with the majority from our Suscol Springs Ranch in the cooler southeastern reaches. Grapevines at our Suscol Springs Ranch have to struggle through the region's characteristically rocky soils—a beneficial stress that yields smaller berries of great concentration and supple tannins. This vineyard also gives our wine a distinctive acidity that plays beautifully with the intense fruit. We include a small percentage of grapes from our warm, nutrientrich valley floor vineyard in Rutherford, which adds a distinctive structural element to the blend.
Vintage 2017
After several years of drought, we were happy to see ample rainfall in Napa Valley during the winter of 2017. Cool spring weather gave us ideal conditions for flowering and "berry set"—when each tiny flower turns into a young grape. Temperatures were moderate through the summer, for slow, even ripening, then turned warmer during harvest, which sped things up and delivered small clusters with tremendous varietal character and balanced acidity. Harvest of our Suscol Springs Ranch vineyard was two weeks early!
Winemaking
We picked grapes during the cool night hours to ensure the fruit retained freshness, purity, and natural acidity. Keeping each vineyard lot separate, we hand-sorted and destemmed the clusters—then did it again with the individual berries. After gentle crush, we let the grapes cold soak for 48 hours prior to fermentation in stainless steel; gentle pumpovers during fermentation extracted color, flavor and tannins from the grapeskins. The wines finished secondary fermentation in French oak barrels (55% new) where they aged until blending. We then reintroduced the final blend to barrel for full integration of toast and oak structure with the rich, ripe fruit aromas. This wine aged a total of 17 months in barrel.
Tasting Notes
Our Napa Valley Merlot displays deep aromas of blackberry and black cherry, with a background of crushed stone. On the palate, concentrated fresh blackberry and black plum are supported by fine tannins, balanced by bright acidity, and lifted by distinctive mineral accents. Rich black cherry notes round out the satisfying finish to this bold, elegant, and complex Merlot.
Reviews and Accolades
90 Points/Vinous
The 2017 Merlot is deep, fruity and quite expressive. Black cherry, plum new leather, dried herbs and spice are nicely layered in a deep, resonant Merlot.