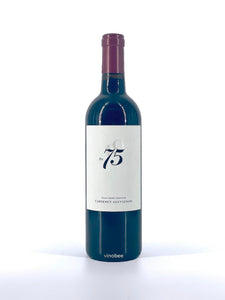 75 Wine Company California Cabernet Sauvignon 2020 750ML
SKU: 439509-1
75 Wine Company California Cabernet Sauvignon 2020 750ML
Cabernet Sauvignon from Napa Valley, California
Notes from the Winemaker
Grown in Mendocino and Lake Counties, this Cabernet is filled with aromas of fresh cherry and cinnamon. On the palate, it's silky smooth with notes of strawberry and blackberry, culminating in a long, lingering finish with just a hint of dark chocolate from a year spent aging on French oak. 
Aromas of strawberry jam and cedar fill the glass. The wine is smooth on entry with flavors of red currants and black berries. The finish is long and lingering with a hint of toffee biscotti from a year of aging in French oak.
Enjoy this wine with grilled and roasted meats and dishes that have medium spice.