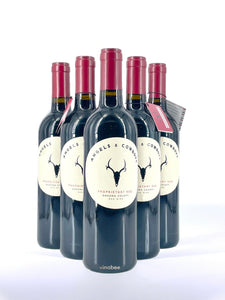 6 Bottles Angels & Cowboys Proprietary Red 2019 750ML
SKU: 165423-6
6 Bottles of Angels & Cowboys Proprietary Red 2019 750ML
Other Red Blends from Sonoma County, California
Notes from the Winemaker
Working with Zinfandel, Syrah, Petite Sirah, Carignane and other robust grape varieties we strive to coax richness and depth from the grapes while still retaining an elegant balance of acidity to keep the wine vibrant and fruit driven. Yeast strains are selected to enhance the natural flavors and texture of the varietals and fermentations are monitored to enhance texture and mouthfeel. Cold soaks, early pressing, and extended macerations are employed as best suited to each of the parcels. Blending is a multi-stage process in late winter/early spring, following the vintage with components aging separately for 6-10 months prior to blending.
The color is a deep blue/black/red. On the nose there is briar berry compote, blueberry pie, licorice spice, brown cane sugar and dark cherry all wrapped up with a ribbon of toasty French oak. On the palate the wine is juicy and plush with attractive structural tannins, a soft oak framework and abundant blackberry, raspberry, plum, and blueberry fruit. Full-bodied, the fruit and spice components culminate to deliver a tasting experience that is robust but refined.
Reviews and Accolades
92 POINTS + GOLD !
Sommelier Challenge Int'l Wine Compeition (2021)
92 POINTS + GOLD !
Santé Magazine Int'l Wine Compeition (Oct 2021)
Technical
Zinfandel-based with a supporting cast of Syrah, Carignane,Petite Sirah, and Grenache.