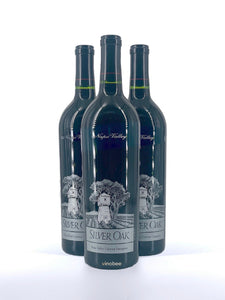 3 Bottles Silver Oak Napa Valley Cabernet Sauvignon 2017 750ML
SKU: 166818-3
3 Bottles of Silver Oak Napa Valley Cabernet Sauvignon 2017 750ML
Cabernet Sauvignon from Napa Valley, California
Notes from the Winemaker
2017 Silver Oak Napa Valley Cabernet Sauvignon is ruby in color with notes of blackberry, blueberry, roasted coffee beans, coriander and a hint of nutmeg. Smooth upon entry, this wine is broad and plush on the mid-palate. It has an elegant density throughout and a long, generous finish. Given proper cellaring conditions, this wine will show beautifully through 2041.

Blending & Aging
After blending in early 2018, our 2017 Napa Valley Cabernet Sauvignon was transferred to American oak barrels from our cooperage, The Oak, where it aged for 24 months. Blending before barrel aging—a signature of our winemaking style—allows blends to be based on the inherent qualities of their vineyard components before oak influence. Vintage to vintage, the resulting Cabernets emerge integrated and ready to drink upon release.
Vintage Description
The winter leading into the 2017 vintage was a welcome departure from the past five consecutive drought years. Over 60 inches of rain fell in some areas of Napa Valley, but our key vineyard properties were left with perfectly saturated soils. Bloom began slightly earlier than expected, but a mild spring resulted in nice fruit set. Then, mid-season weather conditions began to shift. A significant heat wave that lasted through Labor Day capped early summer heat spells. This was the first defining moment of the season. While high temperatures slowed down ripening and threatened to shut down the vines, our vineyard practices and season-long decisions paid off. In short order, cooler temperatures returned, and the vines continued to ripen at a more normal and steadier pace. Cabernet Franc was the last of the season's fruit to be picked from Soda Canyon Ranch—one day before the second defining moment of the season. By the time fires began flanking the Napa Valley, our fruit was already resting in tanks at the winery. We saw modest sugar levels, bright acidity and striking density in aromatics and were also very pleased with the structure in the resulting wines.
Reviews and Accolades
This is a big upgrade in finesse and clarity to such a popular, premium cabernet from Napa. It shows lots of blackberry, tar, cedar and oak-tree aromas that follow through to a full yet toned palate of fine, integrated tannins and a vivid finish. Owner David Duncan explained that the American oak they use in the wine for aging now comes 100% from their own barrel-making facilities, which tones down the vanilla character in the wine. Really impressive and delicious. It's a joy to drink now, but can age.