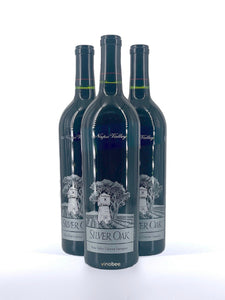 3 Bottles Silver Oak Napa Valley Cabernet Sauvignon 2016 750ML
SKU: 506237-3
3 Bottles of Silver Oak Napa Valley Cabernet Sauvignon 2016 750ML
Cabernet Sauvignon from Napa Valley, California
Notes from the Winemaker
Deep ruby in color, 2016 Silver Oak Napa Valley Cabernet Sauvignon is an opulent wine with notes of cassis, ripe raspberry, toasted coconut and shiitake mushroom. This wine has a rich entry, depth through the mid-palate, great structure without being heavy and exceptional length on the finish. Fresh cherry flavors balanced with floral notes and a subtle hint of black pepper add a beautiful complexity. Plush tannins lend to its ageworthiness. Given proper cellaring conditions, this wine will show beautifully through 2040.
Blending and Aging
2016 Silver Oak Napa Valley Cabernet Sauvignon is comprised of 78.9% Cabernet Sauvignon, 15% Merlot, 3.5% Cabernet Franc, 2.3% Petit Verdot and 0.3% Malbec. In early 2017, the final blend was transferred to American oak barrels from our cooperage, The Oak, where it aged for 24 months. Of these barrels, 84% were new, providing a layered expression of bay leaf, coconut and vanilla to our wine. Blending before barrel aging—a signature of our winemaking style—allows blends to be based on the inherent qualities of their vineyard components before oak influence. Vintage to vintage, the resulting Cabernets emerge integrated and ready to drink upon release.
Vintage Description
The 2016 vintage was an exceptional growing year across all our vineyards, despite being the fifth consecutive year of drought in the Napa Valley. Ideal weather conditions from spring through summer created the backdrop for a vintage with a lot of potential. Mild temperatures during ripening presented plentiful fruit and provided an environment for steady and smooth development of flavors and aromatics. We saw early fall rain in October, shortly after the last of our fruit from Jump Rock Vineyard came into the winery. The expressiveness of this vintage's generous crop resulted in a beautiful and plush wine with good balance and nice integration of tannins.
Reviews and Accolades
94 Points/

Wilfred Wong
The 2016 Silver Oak Cabernet Sauvignon comes to the fore with plenty of persistence and oomph. TASTING NOTES: This shows up with generous aromas and flavors of blackcurrant, dill, coconut, and oak. Enjoy its beautifully appointed richness with a grilled ribeye topped with fresh rosemary sprigs.