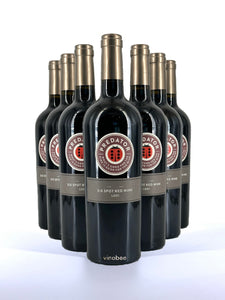 12 Bottles Predator Six Spot Lodi Red Blend 2020 750ML
SKU: 254586-12
12 Bottles of Predator Six Spot Lodi Red Blend 2020 750ML
Other Red Blends from Lodi, California
Notes from the Winemaker
A vibrant, sweet bouquet of blackberry, cranberry and cedar. Excellent oak integration provides velvety tannins that compliment flavors of cherry pie, rhubarb and warm baking spices.
Blend: 54% Petite Sirah, 25% Cabernet Sauvignon, 8% Zinfandel, 13% Other Red Varietals
Predator
What's good for the vine is good for the wine! The lady bug is a natural predator that feeds on insects harmful to plants and vines. "Natural predation" represented by our ladybug logo, is one of the many sustainable vineyard practices that eliminate the need for pesticides. 
Predator Wines come from Lodi, California which is ideally situated between the Sierra Foothills and the San Francisco Bay Delta and benefits from cool afternoon and evening breezes, producing world-renowned red varieties. These wines are crafted for rich deep fruit flavors along with distinctive oak flavor.