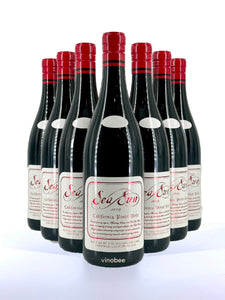 12 Bottles Sea Sun California Pinot Noir 2019 750ML
SKU: 409155-12
12 Bottles of Sea Sun by Charlie Wagner Pinot Noir 2019 750ML
Pinot Noir from California
Sea Sun celebrates our ongoing exploration of California and its great diversity of land. Our Pinot Noir is sourced from premier coastal regions, with cooling breezes off the Pacific Ocean that balance the bright warmth of the sun. These ideal conditions allow for an extended growing season, enabling us to create a layered wine that holds broad appeal. Strikingly soft, with scents of baked cherries, vanilla and brown spice.
Notes from the Winemaker
A deep, alluring red, this wine is strikingly soft on both the nose and palate. A rich fruit character wafts from the glass, featuring scents of baked cherries and pie crust. Additional layers come from notes of brown spice and the warm vanilla that signals perfectly integrated, lightly pressed wood. Entry on the palate is bright and fruit-driven, with lush cherry flavors that mimic the nose. Texture is plush and silky smooth, leading into a finish that evokes the taste and feel of milk chocolate.
Reviews and Accolades
89 Points/Wilfred Wong
The 2019 Sea Sun by Charlie Wagner California Pinot Noir is straightforward and smooth. TASTING NOTES: This wine shows up with pleasing layers on the palate. Enjoy its aromas and flavors of candied cherries with mint leaves-accented, grilled lamb chops.