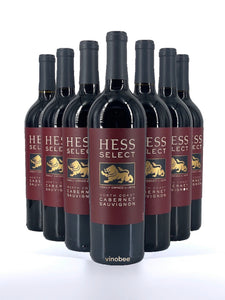 12 Bottles Hess Select North Coast Cabernet Sauvignon 2017 750ML
SKU: 397429-12
Hess Select North Coast Cabernet Sauvignon 2017 750ML
Cabernet Sauvignon from North Coast, California
Notes from the Winemaker
CALIFORNIA'S NORTH COAST
Rugged, often wild, with never-ending complexity, this unique growing region has long been home to advocates for familyfocused sustainable viticulture. A relatively mild Mediterranean climate with predictable heating and cooling cycles is overlaid on a mélange of well-drained volcanic and gravelly soils perfect for concentrating vine energy. Rolling hillsides and benchlands offer prime vineyard sites producing flavorful fruit with layers of agreeable acids and balanced tannins.
TASTE WITH THE WINEMAKER
"Our Hess Select Cabernet Sauvignon truly finds itself at home on any occasion. This wine is so versatile, I drink it year round—among friends at a summer backyard barbeque or with family in front of a crackling fireplace. On the nose, this Cabernet Sauvignon presents vivid aromas of red cherry and blackberry accented by notes of warm cedar. I love the big, rich entry on this wine, as mouthfilling tannins deliver complex layers of black fruit, notably blackberry and black plum, with hints of roasted vanilla and mocha on the soft, round finish."
Dave Guffy, Winemaker
Reviews and Ratings
91 Points - Wine Enthusiast

Backyard BBQ? Check. Date night out? Check. Delicious and dependable with every vintage.