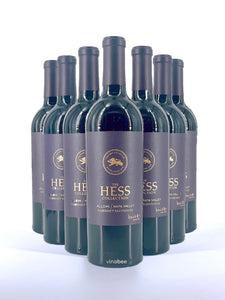 12 Bottles Hess Collection Napa Valley Allomi Cabernet Sauvignon 2019 750ML
SKU: 432550-12
12 Bottles of Hess Collection Napa Valley Allomi Cabernet Sauvignon 2019 750ML
Cabernet Sauvignon from Napa Valley, California
Notes from the Winemaker
A pioneer by nature, Donald Hess was determined to defy convention and pursue winemaking in the far reaches of the Napa Valley. In 1995, he sought out the Allomi Vineyard with a vision to uncover its potential. Once a dormant beauty, the Allomi Vineyard now gives life to luxury Napa Valley wines. Our estate vineyard is located in the gently rolling hills of northeastern Napa Valley. The 210-acre vineyard is focused into 35 unique growing blocks with six different Cabernet clones that add diversity of flavors and complexity to this wine.
Reviews and Accolades
90 Points/Wine Enthusiast
This is an approachable, likable and hearty red, blending mostly Cabernet Sauvignon with Petite Sirah, Malbec, Merlot and Petit Verdot. A spicy rich berry nose leads to plush, soft and toasted notes of oak that will widely appeal.